November 14, 2022
ProAgenda: an all-in-one golf management software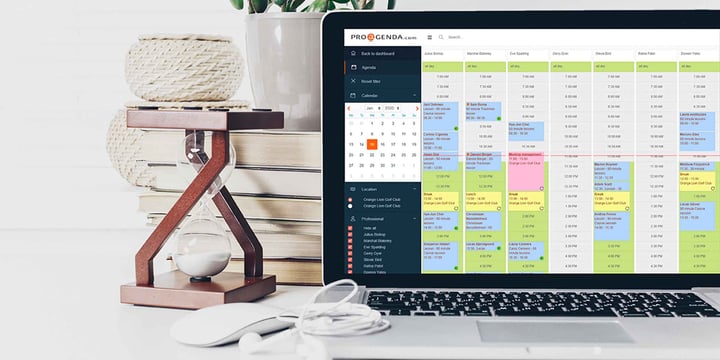 Having an online tool is now more critical than ever! With new golfers from a new generation entering the game, it is essential to be available and visible online. In today's world, no one can be bothered with waiting for confirmation and going back and forth to book a lesson. We want it our way, and we want it now. An online booking system means you are bookable 24/7 without having to go back and forth with your client. In this blog we wanted to summarize some of the best features of the ProAgenda all-in-one golf management software.
1. Online booking system
First and foremost, ProAgenda is an online booking software. Its best feature is the great booking tool, making booking possible with just a couple of clicks. The user-friendly booking page is made to be as accessible as possible. Making it an excellent system for all your clients. The booking tool consists of one agenda (or multiple if you have the academy management software), and this agenda contains all your availability and lessons in one place. Clients can book a lesson with just a couple of clicks whenever they want.
With other booking platforms, it can take multiple clicks, including selecting a date right away, to see the availability of your pro. If there is no availability, you will have to go through that process again for another date. With the ProAgenda, your clients see all your availability and lessons without having to go back and forward.
2. Coaching with the ProAgenda golf management software
The platform combines two great features. The previously mentioned booking software and a coaching platform. This feature allows you to communicate directly with your clients without using a second service. You can send coaching material like videos or pictures and send messages to your clients. Your clients only must log into their accounts and see all their golf-related information.
The inclusion of coaching means that after receiving your feedback, clients can directly book another lesson or buy another package on the same platform. Providing both your clients and you with an organized system where everything concerning their golf lessons can be found.
3. Indoor studios within the ProAgenda golf management software
Adding to the booking and coaching, ProAgenda also offers a solution for combining facility bookings and coaches' schedules. With this, you can ensure that both align, and it prevents double bookings of your facilities' resources.
The resource immediately gets blocked when a lesson is booked using that specific resource. This essentially means that lessons using the same resource are no longer bookable to other clients. This is an essential feature, especially for more prominent academies with multiple professionals and facilities. Keeping this organized can be a big challenge, and it is essential for your academy's functionality to run smoothly.
4. Mobile app with online scheduling software
ProAgenda offers a mobile client app. This makes it possible to access all the data on their phone. The mobile app offers all the functions that can also be found on the desktop.
Having a client app also means that your agenda is available any place if they have their phone at hand. In this app, you will find the booking, coaching, and messages functionalities. Your clients can access their agenda and yours by just checking their app! Saving them time by not having to open their computer to book a lesson. It adds to you being available 24/7, anywhere and everywhere.
5. Support with setting up your golf management software
Besides offering great golf management software, ProAgenda offers excellent support. This support starts from the moment you are setting up your account and every question you might have after that. Send a message or give a call, and you will be answered within 24 hours. With the extensive support from ProAgenda, the system is straightforward to set up and understand. If your want to read more about the support of ProAgenda and what it can do for you, please read our following blog.
6. Creating reports with your golf management software
Having a clear and sorted overview of your data is as important as having a lot of bookings. Data is one of the most important parts of running your business accordingly. If you want to read more about the impact of data on your business, please read the following blog.
Creating reports helps with making sense of all the collected data. The ProAgenda has a feature that allows you to create reports with just a few clicks. Click on the type of data you want in the report, and the system will automatically make a report based on that input. Based on the reports, bookings, occupancy, and promotion decisions can be made easily. Read more about how data can help grow your business in our blog.
Want to know more about ProAgenda and how it can help you manage your professionals? Book a demo with one of our experts, and let us show you around the system.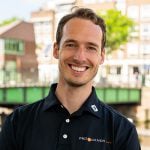 Jordy Groen

Curious about how ProAgenda can help your golf academy?
Complete the checklist to help you discover how the ProAgenda golf scheduling software can benefit you.
Discover if golf scheduling software is the right fit for your academy